Quality
---
STAROIL fuels are supplied to the final customer containing special injected in a refinery additives. Our products exceed the highest demands of engines and vehicles manufacturers. Its use prolongs the engine operation, maintaining the minimum consumption guaranteed by the manufacturer and acts with total efficiency on the different parts of the vehicle.
Regularly through duly authorized laboratories, STAROIL checks the specific quality characteristics of the supplied products, observing specifically the level of "cetane index", "detergency" and "POFF" of its fuels in order to achieve a better consumption of the engine, and a greater capacity of the combustion.
All our customers can request any further information, regarding the latest CLH delivery notes of product downloaded in any of our STAROIL facilities, to check the addition of HQ300 (Diesel fuel) and HQ400 (Gasoline) Additives.
In STAROIL we sell quality, this quality comes from obtaining our fuels directly from the refineries that CLH has distributed throughout Spain, getting the original products from the most important oil operators in the national market.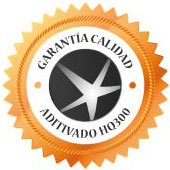 STAROIL X-PLUS is a super-enhanced Special Diesel that we sell in some of our Service Stations. This fuel is treated with a chemical whose base is 2-Ethylhexyl Nitrate, whose commercial name is BASF KEROPUR DP5000 and which we import directly from Germany. This product increases the running of all diesel engines by preventing any type of sediment in the tanks, increasing the cleanliness of the entire supply circuit by specifically influencing the operability and the heat capacity of the combustion combustion of the engine. Diesel X-PLUS is especially efficient in cold engine starts, where a greater improvement is obtained.